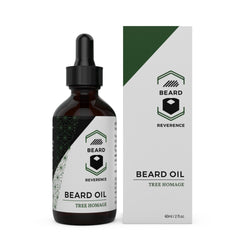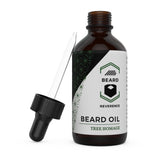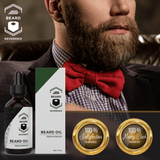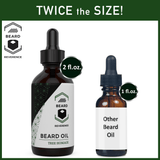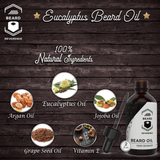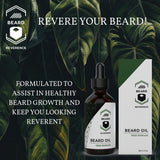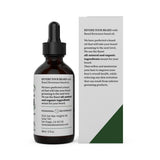 Beard Reverence
Tree Homage Beard Oil
Buy on Amazon
Embrace the masculine properties of nature with Tree Homage, a complex blend of the best essential oils for beards, beard growth and thickness, and styling. All of the essential oils (in beard oil) that cleanse, soften and repair the beard and skin occur in nature, so pay reverence to the bucolic outdoors with Tree Homage essential oil beard oil. Tree Homage infuses all-natural essential oils for a beard oil that promotes healthy beard thickness and growth and a well-sculpted appearance, always.
The eucalyptus beard oil found in Tree Homage imbues beards with an intoxicating pine scent that slightly cools each breath. Our beard oil seals in vitamins and minerals as well, making Tree Homage the best-smelling beard oil that also moisturizes. For a durable hold and a healthy look that never feels itchy or brittle, turn to the best essential oils that nature has to offer and choose Tree Homage.   
Benefits: Softens, shines, and hydrates your beard and scalp. Promotes healthy beard growth. 
How to use beard oil:
Place 2-4 drops of beard oil in the palm of your hand or finger tips. 
Rub your hands together to warm the oil. 
Work the oil evenly into the beard and skin in an upward motion. 
Finish by styling in a downward motion using your hands, brush, and/or comb.
Tree Homage Beard Oil Ingredients:
Grapeseed Oil, Jojoba Oil, Sweet Almond Oil, Vitamin E, Aloe Andongensis Leaf Juice, Argan Oil, Eucalyptus Radiata Leaf Oil