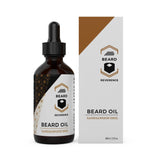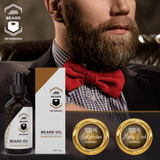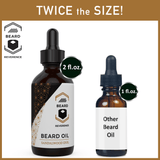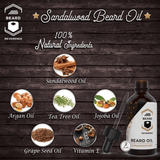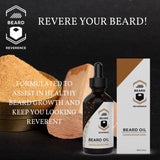 Beard Reverence
Sandalwood Idol Beard Oil
Buy on Amazon
Now is the time to be idolized by all with Sandalwood Idol from Beard Reverence. This quality blend of sandalwood beard oil harkens back to ancient Roman days when revered men would proudly scent their beards with sandalwood oil as a show of status and to attract a vestal maiden. That may have been 4,000 years ago, but some things never change.
The relaxing sandalwood scent is far from overpowering. Sandalwood beard oil is sweet and exotic with a woody redolence reminiscent of a time when honor and courage were required. Whether your blade is at the end of a hilt or the end of a razor, Sandalwood Idol hydrates, firms and soothes skin follicles to ensure you will always look better than the barbarians next door.
A premium mixture of sandalwood and carrier oils combine to create the best-smelling beard oil you have ever revered.
Benefits: Softens, shines, and hydrates your beard and scalp. Promotes healthy beard growth. 
How to use beard oil:
Place 2-4 drops of beard oil in the palm of your hand or finger tips. 
Rub your hands together to warm the oil. 
Work the oil evenly into the beard and skin in an upward motion. 
Finish by styling in a downward motion using your hands, brush, and/or comb.
Sandalwood Idol Beard Oil Ingredients:
Tea Tree Oil, Grapeseed Oil, Jojoba Oil, Sweet Almond Oil, Vitamin E, Aloe Andongensis Leaf Juice, Argan Oil, Sandalwood Oil